Re-edited: Yay, my card has been chosen as a top pick in the Top Tip Tuesday challenge!!!
Hello Friends
I hope you're enjoying your week so far!
Now that we've been finally enjoying some sunshine in the UK and I've been able to spend some time in my lovely new garden.
And I got really excited when a couple of butterflies found their way to our garden - sadly, I seem to see fewer and fewer butterflies each year, does anyone have any idea why?
So I thought I would share this card to celebrate this happy occasion and show off the beautiful wings of these small adorable creatures.
Some of you might remember this card from a Create & Craft show back in April :).
I wanted the wings to be the focal point of the card, without any papers or embellishments steeling the shine from it. So I decided to turn to my good old matt emulsion paint to tone down any patterns and to keep the colour palette uniform.

And here is what I came up with.
My butterfly was going to sit on a flower so I needed to create a big dimensional 'platform' with petals :).
As I was going to paint over the papers anyway I decided to rummage through my box of scraps to pull out a selection of papers that I could cut into squares. It reminded me a bit of a Scrapheap Challenge, a TV show in the UK where teams run around a scrap yard to find various objects that they can use in the structures they are challenged to build :).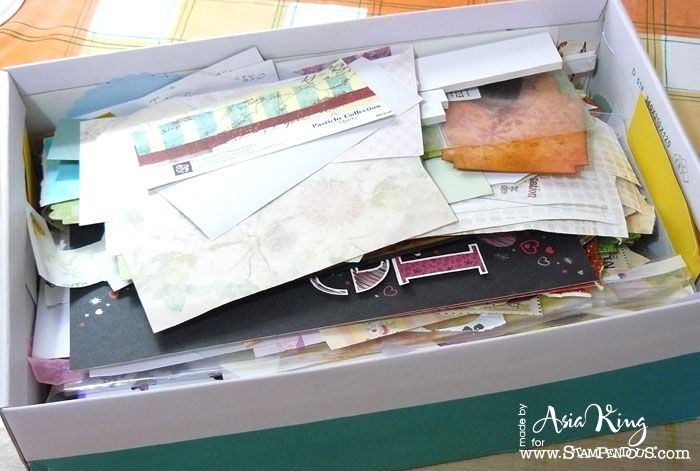 I cut my papers to about 2"-3" squares - they don't have to be precise. Next I rolled them into tubes and added some glue to hold them in place. I used tweezers to help me roll the paper inwards.
Next, I arranged the tubes over my background into a round-ish flower and glued them in place. Once the glue was dry I dry brushed my flower with matt emulsion paint. Then I swiped the petals with Boss Gloss, sprinkled some Shabby Blue embossing enamel and zapped it with my heat tool.
I layered the main butterfly on a fluffy mulberry paper and embellished the body with Champagne and Steel Blue glass glitters.
I hope you enjoyed this quick and easy project today :). I really love this big butterfly image, it's so versatile and it works great as a focal point, just like on this winter butterfly birthday card here.
I'm still travelling so I will catch up on visiting your beautiful blogs when I am back.
Before I go - have you joined my Big Birthday Bash celebrations yet? Be sure to join soon, you don't want to miss the chance to win some fabulous goodies!
Have a fabulous week!
♥ Follow Me On Bloglovin'
Challenges for this card:
Mixed Media Place - How you use: embossing
Simon Says Wednesday Challenge - Monochromatic
Top Tip Tuesday #107 - Embossing
Vintage Stamping Challenges #11 - Wings and things