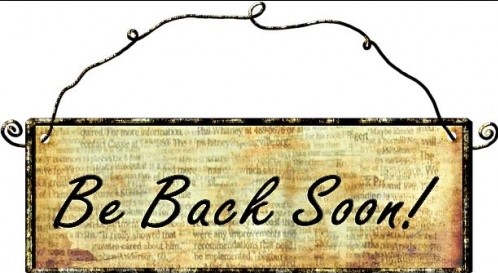 Hello my lovelies! It has been a little quiet on my blog and I apologise for my absence from my blogging and visiting duties.
Some of you may know that there's been lots of new things happening lately in my 'non-crafty' life that have taken the front seat. I've recently started a new job and if that wasn't enough to keep me occupied, my hubby and I are also hoping to move house soon! Sheesh! There are other things going on as well, which I won't bore you with, but suffice to say my head and heart have had their focus turned away from crafting for a short while.
With a heavy heart I had to step down from the
Scrapbook Adhesives by 3L's
design team and I am taking a (hopefully short) break from regular blogging. I might pop in occasionally but I can't promise at the moment... Things with the move are still up in the air but we're starting to prepare for the move as we might have to get everything packed at a very short notice. Then, it will take a little while to organise a new craft room/space in the new house.
I would also like to mention this last call for
Maureen Hayes
, the winner of my Seasons Givings giveaway - please do get in touch, hun, otherwise I'll have to redraw the winner. I've sent you emails and tried to contact you via your blog but with no success :(. This was Maureen's winning comment:
I know Maureen has seen my winning post but I still haven't received an email with her mailing address. If you know Maureen, please let her know I'm still waiting to hear from her. I will wait another week but after that I will redraw the winner.
So, that's all from me for now! Please, send some positive vibes and prayers my way - they are much needed at the moment and will be greatly appreciated! :) And I hope you won't forget me - I will be back soon! :)
With warmest hugs xx
♥ Follow Me On Bloglovin'